Letter by Douglas E. Barnhart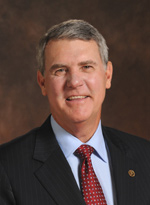 At the 2008 Convention in Las Vegas, I kicked off the year with a theme of "Let's Build." The theme has many meanings – of course we build projects, but we also need to continue to build relationships, build political influence, and build the industry's image. While AGC is a very successful organization and we have a great track record of accomplishment, we have significant challenges facing us in the area of professional image.
We know that we are a critical part of the US economy, nearly 10% of the US gross domestic product, and we build the schools, hospitals, public buildings, transportation and utility infrastructure that are vital to America's quality of life. However, when choosing a career, most of the public view construction as a career of last resort; and as we try to gain support for needed public improvements, we find tremendous opposition to making the investments necessary for our nation's future prosperity. While this is a complex issue, improving our image is a key element in solving these problems.
At the Las Vegas convention, I challenged each of AGC's 96 Chapters to undertake a significant charitable activity in their local community. It has been my own experience that by getting involved in local charitable activities, the perception of our profession and the industry as a whole is enhanced. Local elected officials, civic leaders, and the public remember and appreciate the contributions of those who get involved and donate their time and resources to making their community a better place to live. Construction has provided us with a great opportunity to work hard and succeed. What better way to show our appreciation than to give back to our communities and share our success with worthy causes benefitting those in need.
At the 2009 Convention we will be launching a new awards program called "AGC in the Community" to celebrate and showcase Chapter charitable activities. While we are aware of a number of Chapter activities, we are requesting each Chapter submit information about the charitable programs and activities they are involved in. At the Opening General Session, we will highlight all the Chapter activities that are submitted and give special recognition to a number of activities that are unique or have had substantial impact. We are enclosing a form that outlines the information we are interested in receiving about your activities and request that you submit the information by January 15, 2009.
Thank you for your support in this important initiative. I look forward to learning more about your charitable activities and programs and showcasing them at the San Diego Convention in March.
Sincerely,
Douglas E. Barnhart
President (former)