AGC in the Community

AGC in the Community is an initiative of AGC Charities Inc., designed to showcase the community service projects of AGC of America's chapters and members. The awards recognize chapter and member service projects that epitomize the essence of charitable giving, through actual hands-on service and donations to charitable organizations.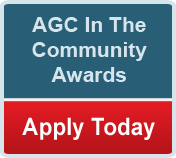 The AGC in the Community Awards will be given each year at AGC of America's Annual Convention. All chapters and member companies are encouraged to submit an entry to detail the charitable works they do in their respective communities. The 2021 applications are now closed and winners will be announced at the 2021 AGC Convention in Orlando, FL. The 2022 awards season is now open and all applications are due by October 20, 2021 at midnight ET.
AGC in the Community awarded organizations for voluntary community service within their region.
View the Awards page to get the list of 2020 winners.